Thursday, August 21, 2008
Have been missing for months due to some reasons .. hehe..
N the reason is ....
Go to my new site
http://www.moi-muppet-darlings.blogspot.com/
3 comments
Thursday, January 31, 2008
Was flipping through the papers yest and saw the news of Edison Chen, Gillian & Bobo sex scandals .. Shocking !!!!
N later in the night, my fren send me these links. To my surprise, Cecilia Chung is also in the pics.
Here are the links =>
FYI ( they are uncensored )
http://www.szqqmm.com/gill2008/
http://www.szqqmm.com/bobo2008/
http://mes-moments.spaces.live.com/blog/cns%2111DE404D958035AC%21399.entry
http://bbs.67.com/thread-911011-1.html
( some chinese forum discussing about the pics )
http://star.67.com/1198
( for any new updates )
Doctored or real ??? U decide ....
3 comments
Sunday, January 13, 2008
My misty is comin back frm Oz. Finally... after soo long..soo now i m just waiting for 26th jan to arrive..
MISTY ,remember to call me when u r back otherwise , u better get ready for an earful of scoldings frm me... haha

As for me... I have lost my interest in shopping.. Oh no.. what the hell happening to me..I m no longer Stephie...Where is the Shopaholic Stephie ??? Where is the Stephie that can shop for a whole day ???? Please oh please come back..
Guess i m jus BORING person now.. hmmm.. a better word to describe me.. a true blue couch potato... watched 2 tvb series.. with another awaiting me .. n luckily i've got Mr Dory to join me in this couch potato club. *smirk*.. at least i m not alone..
I love this show.. its about fortune telling n boy is it amazing, he can even break the fengshui of a casino..if only i can do that n i'll b rich... woooo...But this story line will definitely will keep u goin on n on n on.. However the best of all is...it changed Mr Dory's view of 古装戏. So u should b able to guess how gd it is. kekeke..
As the title tells u.. this is about ICAC but I wouldn't recommend this show though its only a 5 episodes series. Mayb the 1st 2 episodes might keep u entertain but as u continue , it get alittle draggy...
A show yet to watch but its lying next to my DVD player now awaiting me to uncover its story line..
sooo i shall not waste any more time .. I shall watch it now... tata !!!
0 comments
Saturday, January 5, 2008
Did a little quiz and found out that i m a
You're a princess-cut diamond!
You're romantic, graceful, and sophisticated—just like the popular princess-cut diamond. Characterized by clean, square lines and intense sparkle, your relative rock conveys the kind of elegance and femininity that you possess. Plus, the rock's clarity is as clear and true as you are with those close to you. At once classic and ladylike, a princess sparkler suits those who just love being a girl.

Try the quiz and see wat kind of diamond r u
mayb i shall ask Mr Dory to get me a princess cut diamond in future.. geezz..
0 comments
Tuesday, January 1, 2008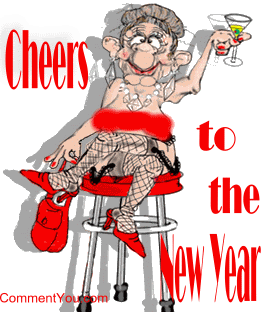 GOODBYE 2007 !!!!
N
WELCOM 2008 !!!!
Hope everyone has a great yr ahead !!!
1 comments